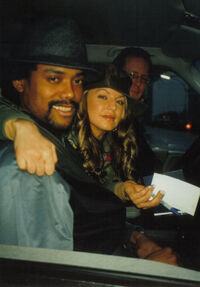 Allen Pineda Lindo, (b. 28 November 1974) is better known as Apl.de.ap. He was born in the impoverished district of Sapang Bato in Angeles City in the province of Pampanga, Philippines. He is of Afro-Filipino descent.
Apl.de.ap is part of a famous hip hop group, the Black Eyed Peas. During his rough childhood days, Apl.de.ap grew up in Barrio Sapang Bato. At the age of 14, he was adopted by the Hudgens, an American family, and moved to Los Angeles, California, leaving behind his birth family and country. However, he has stayed very loyal to both his biological family and to the Philippines, identifying himself as a Filipino American. He explains his life story in a song called "The Apl Song" found on the Black Eyed Peas 2003 album Elephunk (Track 11). This song has a full chorus in Tagalog (Filipino) taken from the Asin song "Balita".
As a member of the popular rap group Black Eyed Peas, Apl.de.Ap has overcome tremendous odds by achieving success despite his humble beginnings. In an interview on VH1, he recalls In the Philippines, you've got to dig up the ground to do a number two, and then you've got to cover it up. You got to pump the water out of the ground to wash your clothes and your hands. That's my ghetto! Apl.de.Ap left Pampanga at age 14 to join his adoptive family in Southern California. There, he and childhood friend Will (a.k.a. Will.I.Am) formed a break dancing crew called "Tribal Nation", which would later evolve into Black Eyed Peas when the duo added mike skills and rapper Jaime "Taboo" Gomez to the mix. Their first album, Behind the Front was released in 1998 to critical acclaim, and was followed by Bridging the Gap in 2000 featuring a guest appearance by Macy Gray as well as members of Jurassic 5 and De La Soul.
Unlike some Filipinos who have shied away from acknowledging their Pinoy roots, Apl.de.Ap embraces his heritage, even in his work. His landmark "The Apl Song," from 2003's Elephunk, features a chorus sung completely in Tagalog and speaks of his experience as a Filipino American. Its accompanying video, which reached number one in the Philippines, with its cameo appearances by fellow Fil-Ams, Dante Basco and Chad Hugo, is a touching tribute to the Filipinos who fought for the U.S. in World War II. Also "Bebot" is an all-Tagalog song on Monkey Business.
Community content is available under
CC-BY-SA
unless otherwise noted.