We've currently working on 93 peas in this wiki, since March 19, 2006.

This is International. Big MEGA Radio Smasher
will.i.am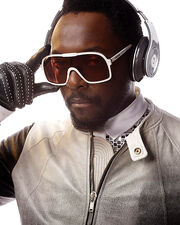 William James Adams Jr.(born March 15, 1975), better known as will.i.am, is a founding member of the Black Eyed Peas. William is of Jamaican American descent. He went to Palisades High School and graduated in 1993. He produced the majority of the Black Eyed Peas' music albums, as well as the main theme song for the American animated television show, Samurai Jack, and appeared as a tutorial and advisor in The Urbz. will.i.am also has his own fashion line, i.am clothing. His best friends, Taboo and Apl, are also members of the Black Eyed Peas. He also recorded a song for Dexter's Laboratory. He produced and wrote the majority of The Black Eyed Peas' musics, as well as such artist like Michael Jackson, Britney Spears, Rihanna, Usher, Nicki Minaj, Cheryl Cole, Justin Timberlake, and else.
Want to become our Affiliates?

Click here

Want to become our Affiliates?

Click here

You can join the Black Eyed Peas Wiki Community by:
Create new pages
Edit some articles
Upload some photos and videos
Join the talk page
Add new links
Remember, your little tiny help could make the wiki even better! If you need any help, you can click here.