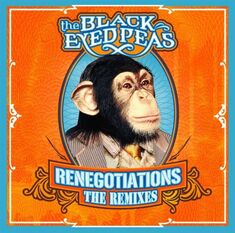 Renegotiations: The Remixes is a Remix EP from the Black Eyed Peas. It was originally released on iTunes on March 21st, 2006, then released a week later at all Best Buy stores.
The word "renegotaitions" comes from "renegotiate", which means to revise the terms of (a contract) so as to limit or regain excess profits gained by the contractor.[1]
Album Info
Edit
Track Listing
Edit
"Like That" feat. Cee-Lo, John Legend, Talib Kweli & Q-Tip - 4:34
"Ba Bump (Erick Sermon Remix)" - 3:09
"My Style (DJ Premier Remix)" feat. Justin Timberlake - 4:27
"They Don't Want Music (Pete Rock Remix)" feat. James Brown - 6:26
"Feel It (Jazzy Jeff Soulful Remix)" - 4:54
"Audio Delite (Album Version)" - 4:03
"Disco Club (Large Pro Peas Remix)" - 3:50
Bonus Tracks
Edit
"Like That" Video (iTunes only)
References
Edit
Community content is available under
CC-BY-SA
unless otherwise noted.