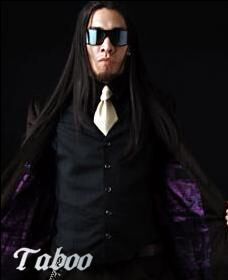 Jaime Luis Gomez, born July 14, 1975 in Rosemead, California, better known as Taboo Nawasha. He joined the Black Eyed Peas in 1995 (band mates Apl.de.ap and will.i.am were originally in a group called Atban Klann but they had to change the name after moving to a new record label). He is of Mexican/Native American descent. Taboo's Native American roots are that of the Shoshone tribe. Taboo's step-father was born in Morelia, the capital of the state Michoacán, Mexico, while his mother was born in Los Angeles, and is of Dakota Sioux descent. He has one son named Joshua Parish Gomez, who was born when Taboo was 18.
Jaime has recently announced plans to launch an arts school (non-profit) for children living in his hometown of Rosemead, California. [1]
Like all of the other members of the Black Eyed Peas, Taboo has starred in movies. Taboo's first acting gig was the 2005 film Dirty [2] with Wyclef Jean, playing the part of Ramirez.
Joshua was born Oct 13 1993 from Jaime's high school sweetheart Karish Kittrell
Community content is available under
CC-BY-SA
unless otherwise noted.