"The Time (Dirty Bit)", is the 2010 single from The Black Eyed Peas from the album, The Beginning. The song was released as the album's lead single on November 5. The chorus of the song samples from the 1987 "(I've Had) The Time of My Life" song, soundtrack from Dirty Dancing.
Critical Response
Edit
Simon Vozick-Levinson of Entertainment Weekly praised the song's catchiness, but felt it failed to meet the standards of previous singles "Boom Boom Pow" and "I Gotta Feeling". Franke Previte, who won an Academy Award for co-writing "(I've Had) The Time of My Life", complimented The Black Eyed Peas' sample usage, saying, "It just reconfirms to me that the song is cross-generational. The song has now crossed over to the next generation in a huge way." However, Willa Paskin of New York, however, criticized the choice of sample and was disappointed with the chorus, feeling it was "shoehorned into the rest of the song" while Todd Martens of the Los Angeles Times called "The Time (Dirty Bit)" "the most assertive party song of the year".
Chart Performance
Edit
Debuted on the Canadian Hot 100 at #87 on November 5, 2010, it debuted at #40 on the Billboard Pop Songs chart the next week and peaked at #8. However, the song reached #1 in Canada 2 weeks later, selling 31.000 downloads that week. It also debuted on the top of the UK Dance Chart itself as well as #2 in New Zealand.
In February 2011, the single was certificated Platinum in Germany for 300,000 copies sold, making it their third single to do so (following "Shut Up" and "I Gotta Feeling"). As of January 2011, the single sold 2 million copies in the US, making it the group's 7th song to do so.
The song became the group's most viewed video on YouTube, which in April 2011 scored 100,000,000 views.
Music Video
Edit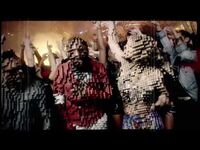 The music video for
"The Time (Dirty Bit)"
was released on November 23, 2010. It was directed by Rich Lee, who previously directed the video for
Imma Be Rocking That Body
.
It opens with a zoom-in to a city street where, as will.i.am sings the beginning, his head voxelizes and transforms into a television screen where Fergie is projected during her solo. The video then cuts to sweaty dancers at an underground nightclub, who, along with the Peas, also variously become voxelized throughout the song.
External links
Edit
Official audio version
Official music video
Lyrics: The Time (Dirty Bit)
Community content is available under
CC-BY-SA
unless otherwise noted.